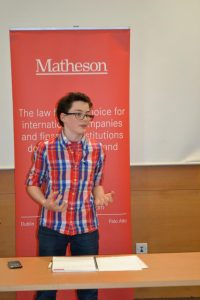 This House Would Positively Discriminate, Sell its Organs, Arm the Gardai, Legalise All Drugs, Reinstate Duelling, Not Restrict Immigration, Welcome Donald Trump… Whether you intend to nurture future presidents of Ireland, form millionaire barristers, strengthen the armoury of a barrack-room lawyer or merely tick some of the numerous boxes for the New Junior Certificate English course, our debating society is one of the few places in school where students are rewarded for thinking for themselves.
Coláiste Iognáid has a formal debate society that adheres to 'British Parliamentary Debate' rules. It has a fully drafted constitution and is headed by a student auditor (usually a sixth form student). Debaters of all ability are welcome to speak or observe. It is an inclusive group, then, where a First Year may battle with a Sixth Year. And beat them…
Meeting every week, over the last fourteen years, debaters from the society have won dozens of national competitions, have represented Ireland in Cambridge and Oxford eight times and have had a member on the Irish World School Debating Team. Arguably, it is the most successful team activity in the school in terms of trophy successes.
But our society is not about winning national and international plaudits…
Buck rote-learning, kick out grind-school essays, ban formulas: debating feeds the verbally dextrous and fertilizes the philosopher, the politician, the reformer and the individual. Our alumni debaters go on to degree courses at the highest level and on to work in Human Rights, Criminal Law, NGOs, Sociology, the UN and even politics. Some may even become teachers and debate coaches.
And there is always a small corner of Coláiste Iognáid where teaching can still be a (slightly) subversive activity. Welcome to debating.