Congratulations to our own Brenda Flannery who launched her book 'Roots Go Deep' at the school during the week.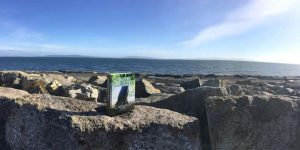 Roots Go Deep is a book of messages of inspiration and insight, from over 250 people from the hockey, sports and wellbeing communities. It includes words of wisdom on why is it good to play sports in school, what the benefits and challenges of sport can be, why it is good for our health, and how wellbeing awareness and practices are beneficial for sport and overall health. Along with additional nature and photo surprises… this is a book full of authors!
Brenda is a past-pupil and current hockey coach in the Jes.  She has played hockey for the school, Connacht, UCD and for Ireland.  Brenda currently runs piano classes and Beo & Be – Mindfulness & Qi Gong classes in the community while also studying and playing hockey at NUIG. We wish her the best of luck with her studies and her future.  As a community, we feel enormously lucky for her ongoing contribution to sports and wellbeing in the Jes!
Books are available at a discounted rate of €15 in the school office. Otherwise you can find out more and purchase them at https://www.rootsgodeepbook.com
All proceeds from the sale of the book will go towards the costs to produce the book, Jes school hockey and hockey development in Connacht.
For more fantastic photos of the event go to Brenda's Blog https://www.rootsgodeepbook.com/blog